Police actions 'did not contribute' to teenager's death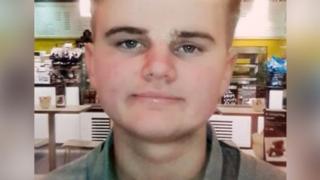 An inquest has ruled that the actions of Norfolk police did not contribute to a teenager's death.
Preston Fulcher, who was 19, crashed his brother's car into a tree while being pursued by police near North Walsham in June 2016.
The inquest heard a police officer reached speeds of 80mph during the short high-speed chase.
The jury inquest said it was satisfied the police car was travelling at a safe distance from Mr Fulcher.
Officers responding to a separate call-out noticed a Peugeot car driving with its lights off in the early hours of 26 June last year.
The three-day inquest in Norwich heard the marked car puts its lights and siren on.
PC Richard Jeffreys told the inquest he followed Mr Fulcher for 90 seconds but he failed to stop.
Mr Fulcher, who had not passed his driving test and was not wearing a seat belt, was flung into a ditch when the car veered off an unlit bed and crashed into a tree.
In returning a narrative verdict, the jury said it was satisfied adequate training had been given and the police car was travelling at a safe distance from the pursued car.
The jury concluded that while Mr Fulcher was under pressure, it did not believe he was put under any additional pressure by the police and their actions did not contribute to his death.
Karen Rogers, solicitor for the Fulcher family, said they accept the part he played in losing his life but "remain of the view that the actions of the police officers contributed to his death."
"Preston's family hope that Norfolk Constabulary will consider improving their pursuit training," said Ms Rogers.
The 19-year-old, who was more than twice the drink-drive limit, died from brain, head and spine injuries.