Norwich Northern Distributor Road first section opens to traffic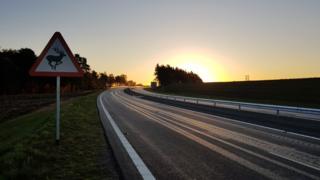 The first part of a multi-million pound city bypass that has been planned for decades has opened to the public.
The Northern Distributor Road (NDR) around the north of Norwich will be 12.5 miles (20km) long when finished.
The first section, a four-mile (6km) stretch between the A1067 Fakenham Road and the A140 at Norwich Airport, opened to traffic at 06:00 GMT.
The bypass is due to be completed by spring 2018.
Norfolk County Council spokesman John Birchall said the road was "a huge achievement", adding it was thought to be the "biggest infrastructure road project of its kind in the country at the moment led by a local authority".
He warned motorists there could be "a lot of people who just want to come and see the new road" and that the "traffic patterns will not settle down for a few weeks".
Chair of the council's environment, development and transport committee, Martin Wilby, said the road was not just for now, "but for the future prosperity of Norfolk".
The road is costing at least £178m and has taken two years of construction to get to this point.
A number of local transport and environment groups have objected to its construction, including the Norwich Cycling Campaign.
Its chairman, Richard Jennings, said he was concerned at the number of roundabouts on the new bypass, "which generally are very dangerous for cyclists".
The western section of the NDR was easier to construct because of the geology of the area and was always likely to be finished first, explained project manager Ian Taylor.
"The next section, from the airport to the A1151 Wroxham Road, will open around Christmas, and the third and final phase through to Postwick will probably be mid-March, but we've got the vagaries of winter to come," he said.