Puppy filmed being dragged by owner in Gorleston is rehomed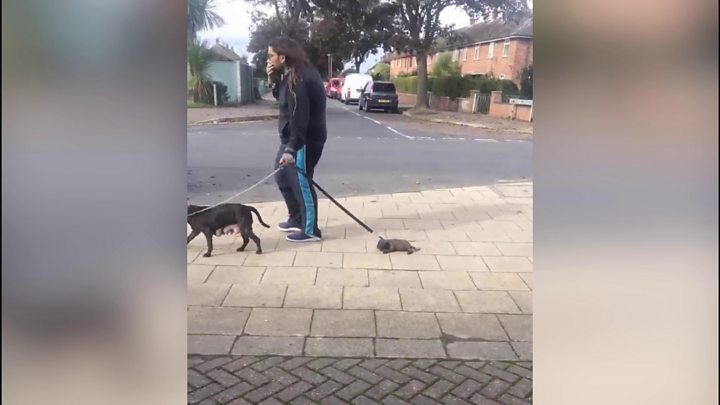 A tiny puppy that was filmed being dragged along a pavement on its belly has been found a new home.
The Staffie-type dog, called Fatty, suffered grazing to her chin as she was pulled along a street by her owner in Gorleston, Norfolk, in October.
She and four other dogs were taken in by animal group Broken Halo Rescue.
Kristy Williamson, the centre's owner, said Fatty now had her "forever home" with a new family in Norfolk, and the other dogs had also been rehomed.
Robert Loombe, 46, of New College Close, Gorleston, was given a deprivation order in relation to Fatty - who was just four weeks old at the time - and fined £300 at Norwich Magistrates' Court in October.
He was not banned from owning animals in the future.
Fatty and two sibling puppies were really ill when they came to her centre in Suffolk, Ms Williamson said.
"They were diagnosed with compacted worms inside their bellies, so high up that it took 10 days of high-dose wormer to get them out, and they also had giardia, an intestinal infection, from drinking contaminated water," she said.
The puppies' parents were also taken in by the charity.
Fatty, who suffered grazing to her belly as well as her chin, went to her new home when she was just under nine weeks old, following veterinary advice.
Ms Williamson said: "With the mum being a young dog and suffering herself, she started turning on the puppies and really hurting them so we had to separate them and they went to new families."
All the animals have gone to homes where there are other dogs, apart from the male dog.
"He cannot be rehomed with other dogs. He went to a foster home, and they fell in love with him and adopted him," Ms Williamson said.