Norfolk NHS trust to pay millions in compensation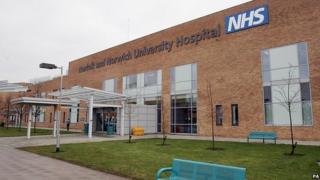 A girl who suffered injuries "of the utmost severity" due to mistakes made when she was born at an NHS hospital will receive millions in damages.
The seven-year-old was born at the Norfolk and Norwich University Hospital in 2010.
She has severe cerebral palsy after her brain was starved of oxygen at birth.
The Norfolk and Norwich University NHS Foundation Trust admitted liability and has agreed to a final settlement of the case.
The girl will receive a lump sum of £2.5m plus annual index-linked payments to cover the costs of her care for life.
Those payments will start at £125,000 a year from the ages of seven to 10.
They will rise to £165,000 a year between the ages of 11 and 19 and will increase again to £240,000 a year from 19 onwards.
Judge Neil Bidder QC told London's High Court that the girl's mother suffered from a medical condition.
He said this was not properly taken into account when she became pregnant.
'Profoundly disabled'
"Substantial complications arose during the latter stages of her pregnancy and in her labour," added Judge Bidder.
Edward Bishop QC, for the child, said her injuries were caused by the trust's "failure to respond quickly enough to abnormalities on the CTG trace".
The hospital admitted that "if proper attention had been paid to this then they would and should have reacted more quickly".
It would have led to the girl being delivered earlier and being saved from catastrophic brain injury, the court heard.
She is "profoundly disabled" with "injuries of the utmost severity" and "sadly a reduced life expectancy".
Sarah Vaughan-Jones QC, for the NHS Trust, repeated its "apology for the failures of care that there were in this case".
Judge Bidder said: "I am sure that it is in the best interests of the child that it should be accepted.
"Her mother has given her wonderful care, but she needs a huge amount of help as well," he said.