Tornado jet came within 400ft of Cessna near RAF Marham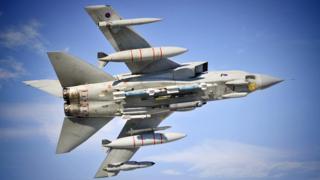 An RAF jet was returning to base when it came within 400ft (122m) of a light aircraft taking aerial photos, a report has revealed.
A UK Airprox Board report found the Tornado was descending to RAF Marham when the crew was told by air traffic control a Cessna C150 was two nautical miles east of the airfield.
It decided to climb 1,000ft (305m) above the Cessna to avoid a collision.
As a result there was no risk of a crash, the report said.
The Airprox board, which investigates near misses, found the Cessna's photo mission had been agreed at short notice on 11 May.
As a result, the Tornado crew was unaware of the plane until they contacted RAF Marham air traffic control to join the visual circuit before landing.
The report concluded the information passed on to the crew "was inaccurate and had therefore resulted in a flawed mental model in the Tornado crew's minds regarding the position and intentions of the C150".
"The Tornado crew believed the C150 to be to the east of the airfield when in fact it was to the south west," it said.
At one point the RAF Marham approach controller also mistakenly thought the jet was below the Cessna.
A separate investigation by RAF Marham found it had two procedures for a visual join, one specified joining at 1,000ft while the other did not specify a height.
It said this had now been rectified to ensure parity.
The C150 pilot said that while he had visuals with two Tornado jets during the day he was not aware of their close proximity.
The report concluded though safety had been degraded, the Tornado crew's climb meant there had been no risk of a collision.