'Disorganised ring' hampered efforts to save Great Yarmouth boxer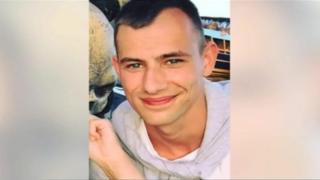 A medic at a boxing match where a young fighter was knocked out and later died has told an inquest there were too many people in the ring as she tried to save him.
Jakub Moczyk, 22, known as Kuba, was knocked out in the third round of his first fight at the Atlantis Arena, Great Yarmouth, in November 2016.
The medical technician described the ring as "disorganised" as she worked on Polish-born Mr Moczyk.
He died two days later in hospital.
More on this story and others from Norfolk
Giving evidence at Norfolk Coroner's Court in Great Yarmouth, emergency medical technician Susan Mitchison said she was called to provide medical cover on the afternoon of the fight.
She works with her husband, Andrew Cawlard, for his firm, Lifeshield Medical Services, providing medical cover at boxing matches, small festivals and on film sets.
When the bout started she and her husband were at a ringside table and they went into the ring when Mr Moczyk was knocked down.
"He was unconscious, he was fitting and he was bringing up a lot of fluid," Ms Mitchison said.
She said they cleared his airway and put him on oxygen and another man helped support his head.
Paramedics arrived within 10 minutes, she added.
Mr Moczyk's twin sister, Magdalena Moczyk, asked if she thought there were too many people in the ring.
"Yes, there were, and there were people who didn't need to be there and I did ask some to leave on more than one occasion," Ms Mitchison said.
"There were so many people there. It was disorganised," she added.
Ms Mitchison said she carried out the medicals before the fight but that no area was prepared for medicals and she was given no details about the boxers, no list of names or disclaimer forms.
She said she set up a table beside the DJ booth, and got each boxer to write their name on a piece of paper as they were checked to see if they were fit to fight.
The inquest continues.