Great Yarmouth boxer died after 'unlicensed event'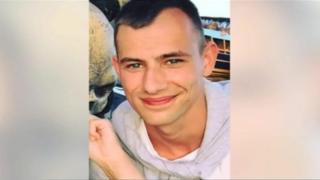 A novice boxer who was killed by a punch to the head did not stand a chance due to a doctor not being present, an inquest has been told.
Jakub Moczyk, 22, known as Kuba, was knocked out in the third round of his first fight at the Atlantis Arena, Great Yarmouth, in November 2016.
His twin sister Magdalena told the hearing in Great Yarmouth there was panic as her brother lay unconscious.
Mr Moczyk's trainer told the hearing it was like an "unlicensed event".
In a written statement read to the Norfolk Coroner's Court, Ms Moczyk said she understood a fight could not go ahead without a doctor ringside.
More on this story and others from Norfolk
"There were no doctors, no ambulances for over an hour," she said.
"No stretchers, nobody was prepared for this. It was a total nightmare. Nobody seemed to be in charge or responsible.
"Kuba didn't recover. He wasn't given any chance," she said.
Mr Moczyk was taken to hospital where he died of his injuries two days later.
His twin said on the afternoon of the fight he went to the venue for a medical check.
He returned and told her there was no doctor or anyone qualified enough for the fight.
She said Kuba's coach, Scott Osinski, told them, "no doctor, no fight".
But the event went ahead after a medic was supposedly found.
Mr Moczyk was winning the bout when his opponent began vomiting in round two, his sister said.
But referee Melvin Payne said the 17-year-old was not vomiting but gagging on his gum shield.
The opponent wanted to continue fighting Mr Payne said, so it went into a third round.
Ms Moczyk said she later learnt the referee was also the opponent's trainer.
Senior coroner for Norfolk, Jacqueline Lake, asked Mr Payne, if he had any concerns that he was both the referee and a coach at the gym Kuba's opponent went to.
"None whatsoever," he said. "Everyone has to be impartial, you know."
Mr Payne, who said he had 40 years experience as a referee, added, it was his decision to allow Mr Moczyk to carry on but either fighter or their team could have thrown in the towel.
The hearing was told Mr Moczyk, a factory worker, was to be paid £250 for the fight.
The inquest continues.