Sussex music teacher banned over relationships with pupils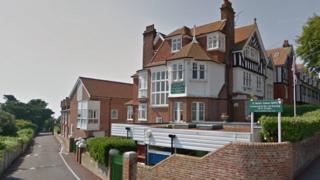 A music teacher has been banned "indefinitely" from the classroom after striking up "disturbing" relationships with two pupils.
Nathan Waring, 37, "developed an inappropriate relationship" with a child while working at a prep school in Eastbourne.
Despite warnings, his conduct continued towards a second girl when he took up a job at a boarding school in Norfolk.
A misconduct panel concluded that Mr Waring "showed no remorse".
The hearing, led by the National College for Teaching and Leadership (NCTL), found Mr Waring struck up a relationship with a girl - known as Pupil A - while working at St Bede's Prep in Eastbourne, between 2004 and 2007.
He sent text messages of a sexual nature and kissed and touched her inappropriately, the NCTL panel heard.
In January 2008, Mr Waring took up a post as director of music at Gresham's, a fee-paying independent boarding school in Holt, Norfolk.
He was temporarily suspended when an investigation into his conduct at St Bede's was launched - but returned to the job when the allegations were dropped.
The panel said Mr Waring "contravened a management instruction" by exchanging text messages in 2011 and 2015 with a second child, Pupil B.
It found that he "failed to maintain professional boundaries" and "engaged in inappropriate and/or flirtatious behaviour" towards Pupil B.
Mr Waring also lied to colleagues about a school absence in order to meet the student in London, the panel concluded.
The panel found Mr Waring guilty of unacceptable professional misconduct. He was banned from teaching in any institution "indefinitely".
'Deep-seated and harmful'
Dawn Dandy, on behalf of the Secretary of State, wrote: "Despite the fact that Mr Waring had received warnings about his behaviour on multiple occasions and that he had been subject to an investigation, this pattern of behaviour continued."
His behaviour was "deep-seated and harmful," she said.
An NSPCC spokesperson said the teacher's actions "represent a shocking abuse of his position of trust".
"Children should feel safe and protected at school," he said.