Fatal Hardwick air crash 'caused by crosswind during landing'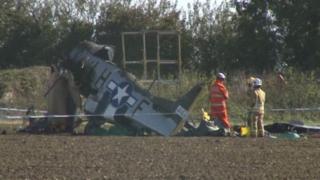 A vintage plane crashed, killing a passenger, after the pilot lost control due to a crosswind, an air accident report has found.
Maurice Hammond's P-51 Mustang came down at Hardwick Airfield, to the south of Norwich, on 2 October 2016.
His passenger John Marshall, 84, died at the scene. Mr Hammond, 58, suffered life-changing injuries.
The Air Accident Investigation Branch (AAIB) said there was no evidence of any aircraft system failure.
The plane was a US-made P-51 D Model Mustang, nicknamed Janie, which was owned and operated by Mr Hammond, who is said to be one of the UK's top aviators of the American plane.
Retired farmer Mr Marshall, from Willoughby Waterleys, Leicestershire, met the pilot at Topcroft Farm airstrip at Hardwick for a flight over a number of World War Two airfields in the area, the AAIB report said.
Mr Hammond took off at 13:48 BST and headed towards the Wash, before returning inland over March, Cambridgeshire, and Bungay in Suffolk.
The aircraft began its approach back at Hardwick at around 14:33 BST.
Video footage from a witness on the ground showed the aircraft achieve a "three-point touch down and bounce back into the air", the report said.
The Mustang bounced twice before Mr Hammond attempted to abort the landing, but it remained at a low level until it struck a tree, crashed to the ground and caught fire.
Investigators found the plane "was subject to a crosswind from the right" which "affected the positioning of the aircraft".
Crosswinds could have reached 18 knots when the crash occurred which is "not considered excessive" for a pilot of Mr Hammond's experience, according to the report.
'Inexplicable'
Mr Marshall, who suffered fatal head and neck injuries, was not wearing a helmet "or any other form of head protection", but investigators found it was unlikely to have affected the outcome.
Mr Hammond, from Eye in Suffolk, is still undergoing "major medical treatment" following the crash for what will be a "multi-year physical recovery", family spokesman Nik Coleman said.
Earlier this month, his family said he has no recollection of the crash.
Mr Coleman added: "We note and accept the factual conclusions of the report.
"Whilst the comprehensive and diligent work of the AAIB provides a physical explanation of the circumstances, the event itself remains to the pilot and technical team, inexplicable."