Great Yarmouth ghost claim rejected in sweet shop notice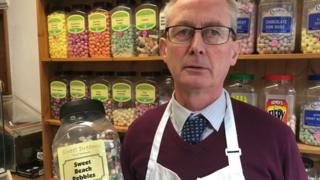 A sweet shop owner put up a notice in his window denying it was haunted after becoming tired of visits from ghost hunters.
Nigel Parrott said he rejected claims of supernatural activity at his business in Great Yarmouth.
The notice addressed to his "wonderful customers" said Jesus was "the only spirit" in the shop.
Ghost tour guide Maddie Iliff claimed the shop had a history of unusual activity.
Mr Parrott, who lives above his store Sweet Dreams, said his Christian faith led him to refute the claims.
"This place might have, at some time in the past, been haunted, but if Jesus is alive and is with me, this shop is no longer haunted," he said.
He said the note he put up was not intended to be "hostile".
Ms Iliff, who organises local ghost walks, claimed a paranormal investigation was done on the building several years ago, before Mr Parrott took over the shop.
"There were strange reports of people being touched, in a Ouija board experiment things moved, and people were seen in windows," she said.
Ms Iliff said the town's ghost walks are regularly changed and do not always pass the shop.