Colman's Mustard and Britvic urged to protect jobs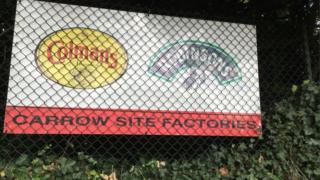 MPs have called upon two firms to safeguard up to 350 threatened jobs.
Colman's Mustard said it could shut its factory in Norwich after Britvic revealed plans to close its shared manufacturing operation on Tuesday.
Norwich South MP Clive Lewis said there were "options on the site", while Norwich North MP Chloe Smith has urged them to "avert this if possible".
The drinks giant has said it is willing to meet the MPs later this month.
The consultation at Britvic - which makes Robinsons and Fruit Shoots at the site - is to begin shortly, with 242 jobs at risk of being cut in 2019.
Colman's owner Unilever will also review its operations at the shared Carrow Works site - putting another 113 jobs under threat.
Its links to Norfolk date back to 1814, with Conservative MP Ms Smith saying: "Any job loss is troubling, but the risk of losing the iconic Colman's brand from Norwich is a sad day.
"I want both companies to do everything they can to safeguard those jobs, avert this if possible and give their employees all the support possible."
'Good site'
Labour's Mr Lewis, who was planning to meet workers and union officials on Wednesday, urged the government to help boost the city's infrastructure.
"Britvic may be moving some of their operations to the more so-called cost-effective north," he said.
"We need to make Norwich as cost-effective and I will be asking the government to do all they can to keep Britvic and Unilever.
"There are options on that site, it is an extremely good site."
Government business secretary Greg Clark described the announcement as a "big blow".