Norfolk County Council outlines plans to cut £125m over four years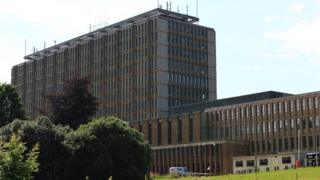 Plans for £125m of cuts over the next four years have been revealed by Norfolk County Council.
It said it wanted "people to help themselves", could base more services in fewer buildings, use technology more and sell or lease some properties.
The authority said it had to make savings due to continuing cuts to local government funding.
Job losses have not been ruled out, with services to be reviewed for the new plan over the next two years.
Cliff Jordan, the leader of the Conservative-run Norfolk County Council, said: "What we don't want to do is leave people with depleted services.
"It depends who you are targeting services to - if you set the criteria too low, you stop people helping themselves."
Mr Jordan said his mother had to go into a home during the early stages of dementia and a change to keep sufferers in their houses should have "happened years ago".
"I want to see the families get help to keep people in their own homes for as long as possible," he said.
Mr Jordan said the council was on track to save the required amounts over the next two years, with its future plans set to "deliver the rest" of the £125m.
As part of its rethink, the authority has said it could target services in places "where people need them most" including Norwich, Great Yarmouth and King's Lynn.
It will also look at providing early help for troubled families, support vulnerable adults to stay in their own homes, and speed up the creation of new accomodation - including care villages.
The council has already made £334m of savings since 2011.
The leader and deputy leader of the Labour group have been asked to comment on the plans.