Fears for Colman's Mustard as Britvic plans to close Norwich factory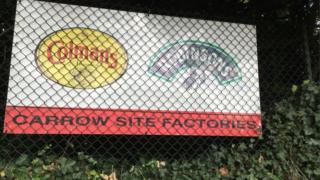 Fears have been expressed about the future of Colman's Mustard in Norwich after Britvic announced plans to close its manufacturing site in the city.
The drinks giant intends to transfer production of Robinsons and Fruit Shoot to elsewhere in the UK, putting 242 jobs at risk.
Colman's owner Unilever, which shares the site, said it would potentially close its factory in Norwich.
The Unite union has called on "the whole of Norfolk" to fight the move.
Consultation at Britvic is to begin shortly and if the proposals go ahead, the Norwich site will close towards the end of 2019.
Managing director Paul Graham said the decision to close the factory was not made until last night and he had been meeting employees.
"This is an important site for Britvic manufacturing operations, it's a sad atmosphere and a difficult day," he said.
Employees affected by proposals would be offered a "comprehensive package of support" including possible work at sites in east London, Leeds and Rugby.
Unilever said following Britvic's announcement, it was launching a review of its own production at the Carrow Works site.
It said one of the options considered in the review would "include the potential closure of our Norwich factory".
The company said Britvic and Unilever's operations were "uniquely intertwined" and relied on a shared infrastructure.
A spokeswoman added: "Although no decisions have been made, we need to recognise that Britvic's proposed withdrawal would have serious implications for Unilever in Norwich."
Rhys McCarthy, national officer for Unite, said "maximum support" would be given to its members at Britvic.
He also raised concerns about the future of Colman's Mustard, which has been produced at the same factory since the 1860s.
"Unite will not only be seeking assurances, but applying pressure so that the production and the much-needed jobs that are vital for the Norwich economy remain.
"The whole of Norfolk needs to come together to fight for the future of Colman's Mustard. Colman's is in the DNA of the city," he said.