Hardwick air crash pilot has 'no memory' of fatal incident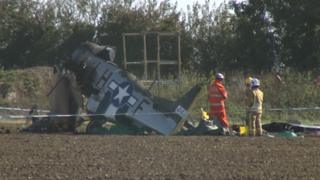 One of the UK's top Mustang pilots, whose vintage aircraft crashed killing a passenger, still has no memory of the incident a year on, his family say.
Maurice Hammond's P-51 Mustang came down at Hardwick Airfield, to the south of Norwich, on 2 October 2016.
John Marshall, who was in his 80s, died at the scene. Mr Hammond was taken to hospital with life-changing injuries.
An air accident investigation report into the crash is expected to be released next week.
Mr Hammond, from Eye in Suffolk, is said to be one of the UK's top aviators of the American plane, an expert on plane restoration and has appeared on a Discovery Channel series, Plane Resurrection.
He is still undergoing "major medical treatment" following the crash, for what will be a "multi-year physical recovery", family spokesman Nik Coleman said.
Mr Coleman said Mr Hammond's survival was due to the skilled care by medical and emergency staff at the scene.
He paid tribute to Mr Marshall's family, saying: "His is a sad loss and we can only hope that the outpouring of goodwill following this tragedy has provided some small comfort to his family."
Speaking about the aviation enthusiast's recovery, Mr Coleman added: "Maurice has no memory of the incident, nor memory of the day of the flight.
"He was of course in a coma, and then a semi-conscious state for almost two weeks after the event, with a range of life-changing injuries.
"All those involved remain deeply affected by this incident."
The American plane was one of two Mustangs owned by Mr Hammond.
The aircraft remains in the hands of investigators and there are no plans for its repair or restoration, his family said.