'Noxious substance' thrown at woman in Bury St Edmunds pub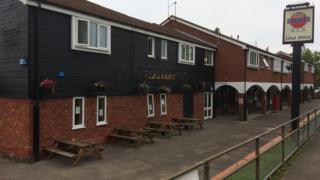 A woman who has temporarily lost sight in one eye after a "noxious substance" was thrown at her has said she will not let it ruin her life.
The attack, on the woman in her 30s, happened at the Glad Abbot pub in Bury St Edmunds, Suffolk, at about 23:00 BST on Friday.
Two men entered the premises and threw the substance from a bottle.
The woman, who did not want to be named, described the offenders as "animals".
'This is a terrifying incident', say Suffolk Police
"In my eyes, human beings don't do that to people," she said.
"But I'm not going to be a victim. I'm going to live my life. I'm not going to let them ruin my life."
Police said they were not treating it as a random attack.
However, they believe the victim was not the intended target.
The woman said she knew something was wrong immediately.
"It started to burn," she said. "I wasn't expecting it and I didn't really know what to do. I got grabbed by some lovely people and rushed to clear my face up.
"I rinsed it thoroughly but it didn't stop the burning.
"I have no idea who it was meant for, it was just random. I was in the wrong place at the wrong time."
Further treatment
She was treated at the scene by ambulance staff and taken to hospital for further treatment.
One of the two men who entered the premises in Glastonbury Road was wearing a hooded top. The other was wearing a baseball cap, police said.
An investigation is under way to determine what the substance was.
Suffolk Police had earlier received reports of two cars driving dangerously and colliding with each other in the Out Risbygate and Newmarket Road area of the town.
They are looking at whether the attack may be connected.