Great Yarmouth Charter Academy: Parents remove children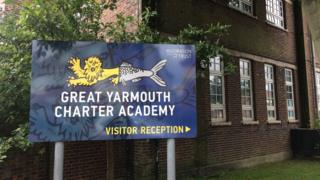 A new academy which forbids slouching and talking in corridors has seen 20 pupils leave since the start of term, parents have claimed.
Those removing their children from Great Yarmouth Charter Academy cited "draconian" new behaviour rules.
Norfolk County Council said 13 parents had made transfer requests, but could not comment on the number claimed.
But a spokesman for the academy said there had been "lots of positive" reaction to the "new arrangements".
The former Great Yarmouth High School was taken over and renamed by Inspiration Trust this summer after getting some of the county's worst GCSE results.
It reopened three weeks ago, with new principal Barry Smith saying his new rules would ensure pupils "leave achieving really good exam results".
An Ofsted inspection in April 2016 judged the school to be "inadequate", with inspectors saying lessons were "frequently disrupted by pupils' poor behaviour".
But Emma Seal from Facebook parents' group, Yarmouth High Worried Parents said she had been told 20 children had now left the school.
The council said while it had received 13 transfer requests, "if parents have decided to withdraw their child from the school and have not requested a transfer, we would not be aware of this".
Darren Wheeler told the BBC he removed his child after hearing of pupils wetting themselves in class, with academy rules stipulating that children are not allowed to go to the toilet between lessons or in lesson time.
Retired lecturer Debbie Brown said she would now home-school her daughter, who has a mental health condition.
She said she was worried her daughter would suffer a "panic attack" if shouted at and was told she could no longer use a separate quiet entrance.
Rod Green, who will also now home-school his daughter, said she had wanted to become a teacher but her "illusion had been shattered by the introduction of the draconian regime".
Rachael Havens said she moved her daughter to another school after she was "manhandled" for slouching while reading.
"She's a bit anxious anyway and isn't going to learn if she's worried she's doing something wrong," Ms Havens said.
'Polite and confident'
James Goffin, a spokesman for Inspiration Trust, said there was "a lot of support for the improvements" and there could be a "variety of reasons" for children moving.
He said while the school encouraged pupils to use the toilet during break times, teachers would excuse them when there was a "genuine need" and that toilets were not locked.
Mr Goffin added the school had been unable to identify any incident of a child being "manhandled".
"We encourage pupils and teachers alike to be polite and confident in class," he said.
"This approach to behaviour encourages calm, ordered classrooms that means there is no need for anyone to shout, and means all children have the chance to take part."
In a separate development, the trust has announced it is consulting on merging its free school in the town, Trafalgar College, with Charter Academy.
Parents at Trafalgar College have now set up a Facebook page opposing the merger.