Cromer disorder: Police admit 'we got it wrong'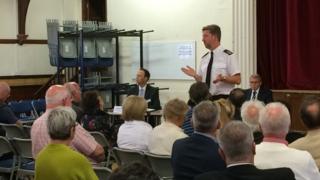 Police admitted "we got it wrong" to the residents of Cromer in a meeting to discuss last month's "lawless lockdown" in the seaside town.
About 100 residents attended the meeting, with one saying the ordeal had left her needing anti-depressants.
Pubs, shops and restaurants closed over the weekend of 19 August following reports of rape, theft and assault.
Norfolk Police initially described it as a "low-level disturbance". It now says it "misjudged" the disorder.
A total of 37 crimes were recorded that weekend, with residents linking the trouble to a group of travellers.
Chief Constable Simon Bailey, whose force is reviewing its response to the disorder, said members of a group of 100 men, women and children had "caused anger and harm".
He said: "There were a number of incidences of theft, of anti-social behaviour, of criminal damage and we misjudged our message, and I'm sorry that we got that message wrong.
"We got it wrong, we'll learn the lessons. It won't happen again.
"Part of our review will look at our media messages. I'm genuinely sorry that we created the impression that this was a low-level disorder.
"We had a rape which, whilst at the time we didn't connect to the group, we are now absolutely connecting."
His apology was met with applause by some of those in the hall.
Laurie Scott, of Breaker's cafe, said: "We now need to get behind the police and move forward."
But not all those attending were convinced.
A barmaid, who did not wish to be identified, said "They [the group] demanded money to leave. It was lawless and we didn't have the police backup."
Aryun Nessa Uddin, of the Masala Twist restaurant, said she suffered a bruised arm after her husband, their young daughter and nephew tried to get up to 40 people to leave when they started shouting and stealing bottles of beer.
She said she is now on anti-depressants and had lost all faith in the police.
"It's disgusting what has happened to me. Three [police] vehicles parked right opposite watched the whole ordeal and didn't come to my help."
The chief constable told Mrs Uddin that a specific part of the review would focus on those officers and what happened at her restaurant.
Ch Supt Nick Davison, who is carrying out the force review, admitted that "in the context of the resources on the ground" his officers had been unable to respond to keep everyone safe.
He also said police thought the travellers were on their way to join others at the Walsingham shrine near Fakenham for a Catholic feast.
Police said the review was ongoing and its final recommendations would be made public.