Norfolk autism assessment wait time 'up to two years'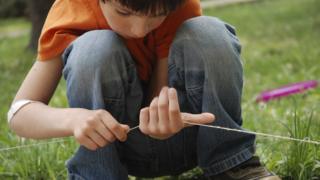 Some children are having to wait two years to be fully assessed for autism in Norfolk, an NHS report has revealed.
While this month 300 cases are waiting to be assessed, says the report to Norfolk County Council's health scrutiny committee.
Councillor Emma Corlett said the figures were "shocking and unacceptable" leaving children in limbo over specialist educational needs.
The report said the local NHS was working to reduce waiting times.
The Norfolk Community Health and Care Trust (NCHCT) and the Clinical Commissioning Groups (CCG) report said only about 150 assessments, out of the 300 on the waiting list, can be undertaken at any one time.
It said 164 families have had to wait more than a year and 14 have waited more than two years.
The report concluded: "We recognise this is an area where services have not kept up with local need... We are actively looking at the options available to us to ensure that parents and families are better supported whilst they wait and that waiting lists are addressed and that the time to wait is far shorter."
'Underfunding claim'
Ms Corlett, Labour member of county council's health scrutiny committee, said: "Parents are stressed out. It (lack of assessment) will have an impact on the education of the children as there are huge variations in what help they are prepared to give to children with autism without a formal diagnosis."
"I believe this is due to underfunding by central government."
The government said funding was a decision of NHS England. NHS England has yet to comment.
The National Autistic Society (NAS) said the NICE (The National Institute for Health and Care Excellence) Quality Standard on autism calls for waiting times between referral and initial appointment for assessment to be no longer than three months, but added that this is not consistently being met across the country.
Rhiane Green, community engagement officer for the regional NAS, said families in Norfolk have been "driven to a crisis point" waiting for assessments.
"The assessment unlocks a lot of specialist support for children especially with their education," she said.
A spokesperson for NCHCT said: "We do recognise that this is an area where services have not kept up with local need and we recognise that this causes distress for children and families - demand has increased locally. We are assessing what options are available to us."