Norfolk local TV station Mustard TV broadcasts last show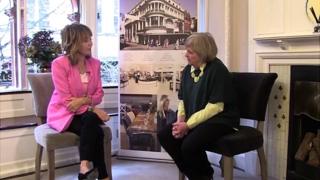 The "jewel in the crown" of local TV has broadcast for the last time.
Mustard TV owner Archant made the announcement after selling the station to the That's TV Group, which runs channels in 10 different regions.
The company said the new owners had indicated they would not need current staff to operate the station.
The station, which has broadcast from Norwich for three years, bowed out with an hour-long Mustard Show special at 18:00 BST.
It was set up as part of a UK-wide government scheme funded by the BBC licence fee.
Its presenters include former Norwich City player Darren Eadie and ex-Anglia TV presenter Helen McDermott.
Chris Carnegy, the BBC's editor for Local TV, described Mustard TV as "one of the jewels in the crown of the local TV emerging sector".
He said "they gave it a good go" but were defeated by the "economic reality" of running a TV station with a small number of potential advertisers and viewers.
As part of the deal, Archant will take a stake in the That's TV Group.
A company spokeswoman said: "We have consistently said that the success of local TV will come from consolidation and are excited to be a minority shareholder in a company with a significantly larger portfolio of local licences."
She added it was not company policy "to disclose details around confidential staff matters".
In a letter to Mustard TV staff, seen by the BBC, Archant chief executive Jeff Henry said the company was "seeking where at all possible to avoid making redundancies by retaining as many employees as we can within Archant".
That's TV Group's franchises includes a Cambridge branch.
The BBC has contacted That's TV Group for a statement.