Thai beach murders: Convicted men lodge final appeal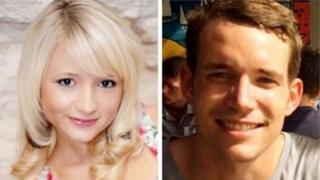 Two men have submitted a final appeal against their conviction for the murders of two British tourists in Thailand.
The bodies of Hannah Witheridge and David Miller were found on a beach in Koh Tao in September 2014.
Zaw Lin and Win Zaw Tun, from Myanmar, were found guilty of the killings in December 2015 and sentenced to death.
An earlier appeal was rejected in March. A final appeal has been lodged with the Thai Supreme Court.
Nakhon Chompuchat, head of the defence team, said they would argue over the reliability of forensic procedures that confirmed a match in samples collected from Miss Witheridge's body and the defendants.
It is not yet known when a decision on the appeal will be made.
Miss Witheridge, 23 from Hemsby, Norfolk, and Mr Miller, 24, from Jersey, had been bludgeoned to death. A post-mortem examination revealed Miss Witheridge had also been raped.
Thai police claim DNA evidence links both the men to Miss Witheridge's body. Their defence had wanted that evidence re-examined.
Lieutenant Colonel Somsak, who led the original police investigation, had told the BBC it no longer existed and a hair sample found in Miss Witheridge's hand was among samples that were lost.
Both men deny killing Mr Miller, and the rape and murder of Miss Witheridge, alleging they were framed.
They retracted their confessions, saying they had been beaten and threatened into making them.
Speaking outside the court following the conviction of the two men, Mr Miller's brother Michael said the result "represented justice for David and Hannah".