Chris Packham 'devastated' by missing Montagu's harrier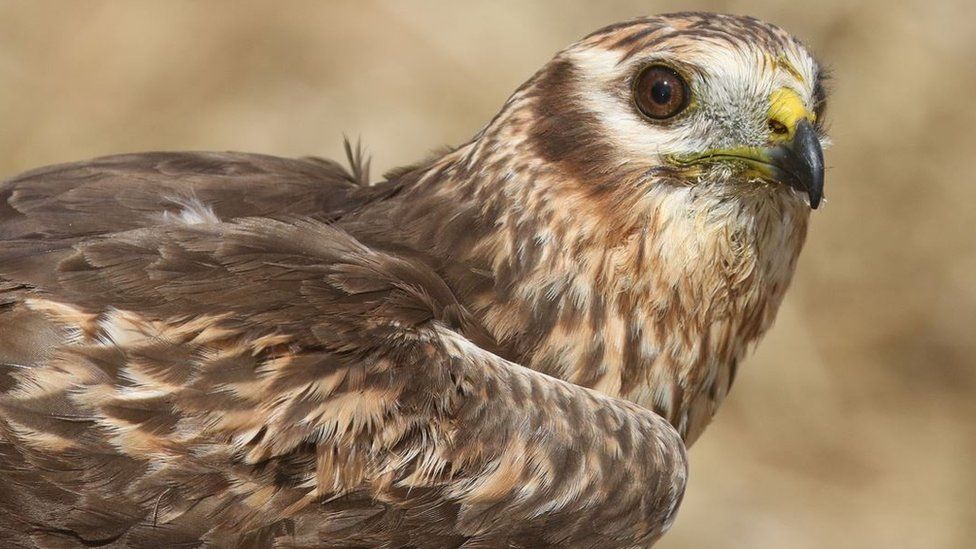 The mysterious disappearance of a rare bird of prey is "devastating news" according to conservationist and TV presenter Chris Packham.
Sally, a Montagu's harrier, was part of one of only four breeding pairs of the bird in the UK.
She was last seen near her Norfolk breeding site on 6 August, then her satellite tracker went dead.
The Royal Society for the Protection of Birds (RSPB) said it was "a major blow for this species in the UK".
Sally and her mate Roger were the only pair of Montagu's harriers left in eastern England and one of only four pairs in the country.
They had bred at Bircham Tofts for the past two seasons, raising a total of five juveniles, the RSPB said.
The satellite tagging system allowed the charity to monitor their every movement, however on 6 August, Sally's tag stopped transmitting and Roger was seen alone at the nest.
"Even if a tag is face down when a bird dies it will transmit a signal for several days until the battery runs down," Mark Thomas, senior investigations officer for the RSPB said.
"We have had nothing from Sally."
Mr Packham said birds of prey such as hen harriers had been "relentlessly pursued, and I fear this bird might have suffered the same fate".
"I have an incredible fondness for these birds," Mr Packham said.
"We cannot directly accuse the shooting fraternity of illegally killing this bird but the fact it disappeared under such mysterious circumstances is enough to raise suspicions," he added.
A spokesman for the British Association for Shooting and Conservation, said: "Tagging birds is a good way of monitoring activity, but tags can fail.
"Critics are often quick to blame shooting when it appears as though a bird has disappeared. However it is important that people have sound evidence before hurling accusations."
"Sally has become a 'catastrophic failure' statistic and Norfolk Police have been informed," Mr Thomas said.
"Something very serious has happened to the tag, and most likely the bird. It is highly suspicious."
Paying tribute to her, he said: "Sally - you were a remarkable harrier and have given us a clear insight in to the ecology and problems faced by this species."
Related Internet Links
The BBC is not responsible for the content of external sites.