Norfolk Police probe 'rare' Swallowtail caterpillar theft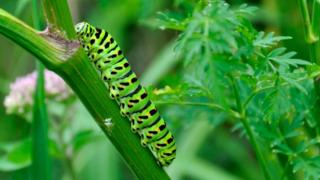 The theft of "scarce" plants and "extremely rare" caterpillars is being investigated by police.
A number of swallowtail butterfly caterpillars were feeding on five milk parsley plants dug up from Hickling Broad in Norfolk.
Norfolk Wildlife Trust said the plants were "internationally protected" and the butterflies only found in that area.
It was an "appalling wildlife crime", the trust said.
Found mainly in East Anglian marshland, milk parsley is the only plant the green and black striped caterpillars of Britain's largest butterfly, the swallowtail, will feed on.
The plant is listed under the World Conservation Union (IUCN 2001) Red List as vulnerable.
The swallowtail butterfly is extremely rare and also only found in the wild in the fens of the Norfolk Broads, the wildlife trust said.
"This is an appalling wildlife crime to dig up these rare plants from an internationally important nature reserve and deliberately take rare swallowtail butterfly caterpillars," chief executive Brendan Joyce said.
"It is very unlikely that the plants or the caterpillars will survive for any significant amount of time away from the reserve."
A trust spokeswoman said the caterpillars may have been taken for a personal butterfly collection, but added there was also a market for the swallowtail because of its rarity.
The theft happened at the Hickling reserve sometime between Friday 7 July and Tuesday 11 July 2017, Norfolk Police said.
It is being treated as a wildlife offence under the Wildlife and Countryside Act 1981.