No action against A140 motorist who drove into car head on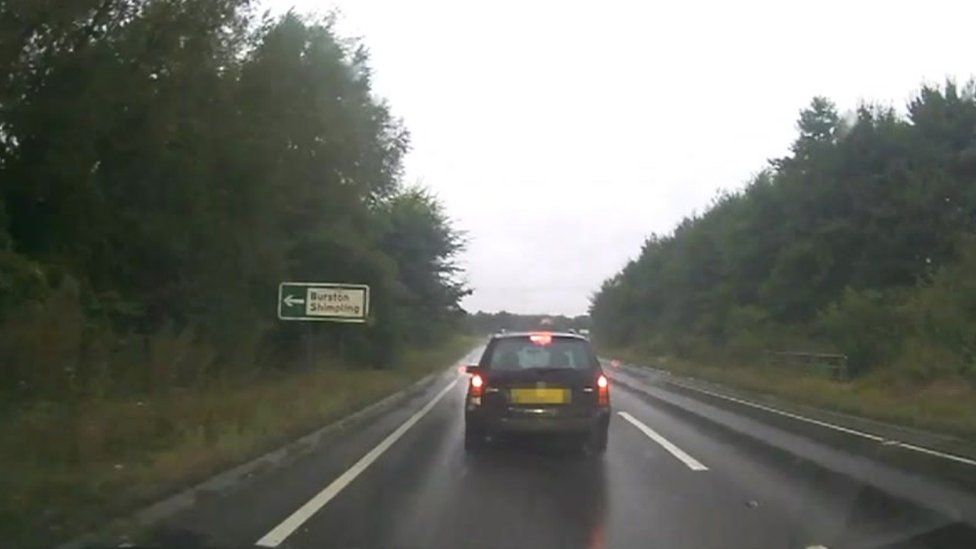 A motorist who was seen making a U-turn before driving straight at a car carrying two children will face no prosecution action.
The video was captured by Jonathan Steward as he was travelling with his son and daughter on the A140 between Diss and Norwich.
The Crown Prosecution Service said there was "not sufficient evidence" to establish who was driving the other vehicle.
Mr Steward said it was "dissatisfying".
Mr Steward, from Norwich, said: "I find it unsatisfactory that the person will get away with it all.
"It has caused loads of problems for me, my insurance company is still fighting my claim with the offenders' company, so I'm out of pocket from all of this.
"I am still extremely nervous when I drive and the whole thing still upsets my children."
Mr Steward was driving from Woodbridge, Suffolk, to Norwich after picking up his children.
The drama unfolded when he got to the roundabout at Dickleburgh.
It happened on 12 September. The CPS said it would not consider the case but Mr Steward appealed.
Following the appeal, the CPS said: "In order to bring charges, our prosecutors must be satisfied there is sufficient evidence for there to be a 'realistic prospect of conviction'.
"In this case, despite the presence of dashcam video, the specialist prosecutor who reviewed the case concluded that there was not sufficient evidence to establish who was driving the vehicle involved in this incident and the original decision not to prosecute was upheld."
Related Internet Links
The BBC is not responsible for the content of external sites.