Biker with 46 points caught at 110mph on A47 near Norwich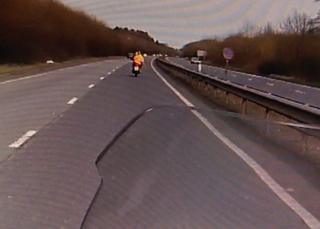 A motorcyclist with 46 points on their licence was stopped by police after travelling at 110mph (177kph).
Norfolk and Suffolk Roads Police clocked the rider on the A47 near Norwich at about 15:00 GMT on Saturday.
Officers found that the motorcyclist, who was carrying a passenger, also had no insurance or tax, and their MOT ran out in 2008.
The motorcyclist will appear in court in due course.
Police said the motorbike was also found not to be roadworthy.
It had a defective rear tyre, cables were routed incorrectly which prevented steering, the seat was not securely fixed and the speedometer was dangling at the wheel.
Officers have seized the bike.