Nelson's captured French Tricolour flag displayed again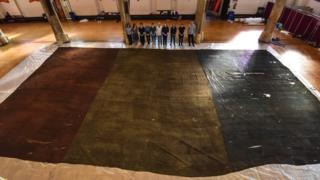 A French flag presented to Norwich by Admiral Lord Nelson after it was captured in battle is to go on display for the first time in 100 years.
The ensign of Le Genereux, believed to be one of the earliest Tricolours in existence, was captured in 1800.
Conservation work on the 16m by 8.3m (52ft by 27ft) flag, which still contains splinters of wood and traces of gunpowder, will cost about £40,000.
Norwich Castle said it is "a remarkable survivor" of sailing ship battles.
Norfolk Museums Service curator of costume and textiles Ruth Battersby-Tooke said the wool ensign is "remarkable for its survival in such a complete state, given its age and inherent fragility".
Le Genereux was one of only two ships from the French fleet to escape Nelson's victory at the Battle of the Nile in 1798.
Nelson's flag captain Edward Berry defeated her in the Mediterranean 18 months later.
The ensign was immediately packed up and sent to Norwich.
Horatio Nelson was born in Burnham Thorpe in north Norfolk and retained strong links with the county.
More on this and other stories from Norfolk
It was displayed in St Andrew's Hall until 1897, but has not been seen in public since the 1905 Centenary of the Battle of Trafalgar exhibition at Norwich Castle Keep.
Ms Battersby-Tooke said: "We want to display the ensign sensitively and fully conscious of the terrible toll these sea battles took on the men involved, friend and foe alike."
Norfolk Museums Service and the Costume and Textile Association hope to raise funds to put it on permanent display.
It will first be exhibited at the Nelson & Norfolk Exhibition at the Castle Museum between July and October.