East of England Ambulance Service warned over work hours safety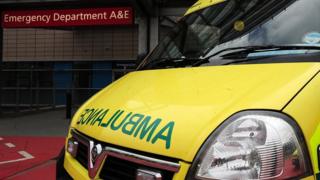 An ambulance trust has been issued with two official warnings for failing to ensure that its "patterns of work are safe".
The two notices were imposed on the East of England Ambulance Service by the Health and Safety Executive (HSE).
The ambulance service said it had met HSE inspectors and "agreed a way forward".
The GMB union, which represents some ambulance workers, said some staff ended up working 14 or 15-hour shifts.
The HSE notices allege the trust "failed to ensure that workers who work more than 48 hours per week (had) all signed a voluntary written agreement".
'Mutually agreed'
It said the failure meant the trust's inadequate records would mean there were not the "protective measures necessary to ensure (its) patterns of work are safe".
After receiving the notices, the ambulance service set up a working group to carry out a "range of actions" including asking all staff to complete an 'opt out' form should they wish to work over their allotted hours.
A GMB spokesman said ambulance staff had recently received documents about 48-hour week working to fill out in their wage slips.
"But there was no information about what it was for or what the implications of signing it were," the spokesman said.
"We barely ever finish on time and people doing 14- or 15-hour shifts is not uncommon."
A spokesman for the ambulance trust said: "The trust responded to the Health and Safety Executive improvement notices by the required deadline and we met with their inspectors on 9 February.
"We have now mutually agreed a way forward with HSE to ensure our evidence supports this."
At a trust board meeting last month it emerged the trust had a forecast deficit of £10.6m - up from a previously reported £6.2m.