Charles Carter resigns over lewd hunt protest video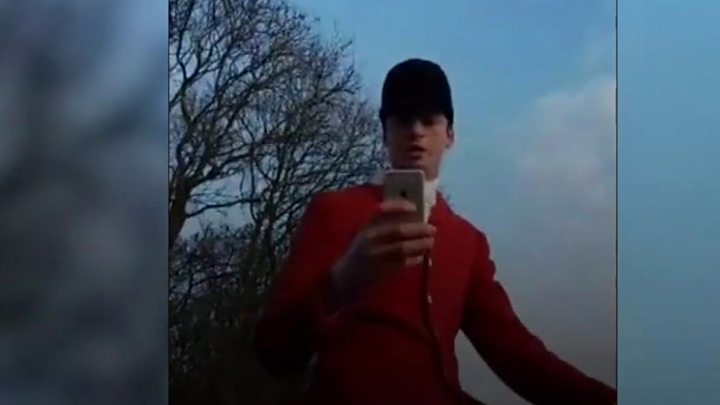 A Conservative councillor has resigned after a video emerged of him making lewd comments to a hunt protester.
The online video shows a confrontation between huntsman and former West Norfolk Foxhounds master Charles Carter and campaigner Linda Hoggard.
During the recording, Mr Carter is seen to ask "can I take to you bed, please?"
The Saham Toney ward councillor was suspended by Breckland Council pending an investigation. His resignation was accepted on Wednesday.
Follow updates on this story and other Norfolk news
The footage showed Ms Hoggard approaching a meet of the Middleton Hunt in North Yorkshire, asking them: "Excuse me, did you know fox hunting was banned?"
Mr Carter replied by asking her name, and when she did not respond, he told her: "I'd quite like to shag you, actually."
The activist reacted by threatening to tell her husband, before Mr Carter remarked: "Can I take to you bed, please?" and told her: "You're very pretty."
Ms Hoggard replies: "So are foxes."
He finally asked for her number before riding off with the rest of the hunt.
Mr Carter has represented the ward in West Norfolk since 2011.
The nature of the meeting is not known, however under the 2004 Hunting Act, foxes cannot longer be killed by dogs as part of a hunt.
One or two dogs can be used to "flush out" - remove from cover - a fox, which should then be shot.