Milton Keynes gang as young as nine attack and rob man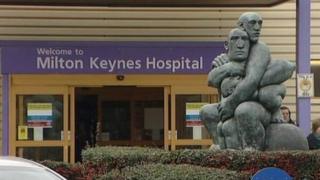 A gang of boys, some thought to be as young as nine, left a man with cracked ribs in a "cowardly" robbery.
The victim, 58, was walking on a path between Saxon Street and Groveway in Milton Keynes, Buckinghamshire, when he was attacked by seven boys.
Details of the robbery, which happened at 21:55 GMT on Monday, have just been released by Thames Valley Police.
Det Con Katrina Walmsley said the man was set upon from behind by the gang, aged between nine and fifteen.
'Cracked ribs'
"The group cowardly attacked the victim... and then continued to assault him as he lay on the ground and tried to get up," she said.
"This was a traumatic incident for the victim who sustained cracked ribs and severe bruising to his face and body."
"Unfortunately there are not other descriptions of the offenders, but I am confident someone knows who they are."
Afterwards, the gang fled with the victim's bag.
Police want anyone who may have spotted the royal blue bag, with blue and white drawstrings, to contact them.
The man was treated at hospital in Milton Keynes but has since been discharged.