Squirrel causes power loss to 1,100 Huntingdon customers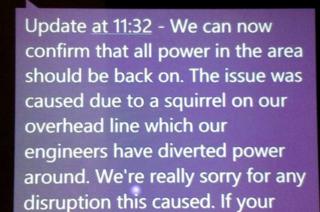 A squirrel caused almost 1,100 customers to lose their electricity supply for nearly two hours, a power company has confirmed.
Properties in the Huntingdon area of Cambridgeshire lost their supply at about 09:45 GMT.
Customers received a text alert just after 11:30 to say a squirrel was to blame for the lack of electricity.
Most power was restored to homes and a school in the area by that time, UK Power Networks said.
Unfortunately the squirrel died, a spokeswoman added.
Click here for more on this and other news from Cambridgeshire
The company initially informed customers there was a problem with an underground cable, but later confirmed the issues were caused by the animal, which had climbed on an overhead line.
"Occasionally squirrels leap between trees near power lines, and with their long tails their bodies act as a 'bridge' for the high voltage power which is always trying to reach earth," the spokeswoman said.
"This can be fatal," she added.