Norfolk children's services boss quits after Ofsted criticism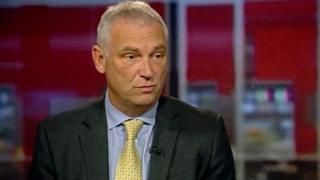 The head of Norfolk's children's services has resigned after criticism from watchdog Ofsted, which said his department was not "good enough".
Michael Rosen said he was going because councillors wanted change and a director with a "different skill set".
Mr Rosen joined Norfolk County Council as an interim assistant director for early help in 2013 and became the director in September 2015.
He said improvements had been made to the children's services department.
"Children's services in Norfolk has come a long way and is a very different service from when I started.
"I'm pleased that inspectors have seen improvement in all the areas they reviewed, but there is still more to do and members have indicated a desire for a change in our approach," he said.
"In my view the immediate improvement priorities for children's services need a director with a different skill set if the continuing challenges in that part of our service are to be addressed at the pace Norfolk's children deserve."
Mr Rosen has been under pressure since a report said the department was still inadequate and not changing quickly enough.
It did acknowledge some improvements had been made.
Chairman of children's services committee Roger Smith said: "Michael has made an important contribution to strengthening children's services which has made a notable difference to the lives of vulnerable children.
"We are determined to do everything possible to get our services to be rated as good - that is what Norfolk children deserve."
Wendy Thomson, chief executive of Norfolk County Council, said it was "entirely his [Mr Rosen's] decision" to leave and he had recently been "disappointed" by the feedback from the latest Ofsted inspection.
She said he thought he had been given the support of politicians.