Man accused of historical child sex abuse and bestiality in Norwich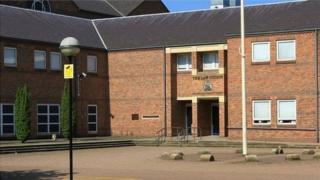 A man sexually abused 10 children, a woman and a dog over a 22-year period dating back to the 1970s, a court heard.
Colin Waterfield, 70, of Stonehouse Road, Norwich, is accused of carrying out the offences between 1973 and 1995, with one victim aged four.
He has denied all 32 charges against him.
The jury at Norwich Crown Court was told Mr Waterfield committed his first offence in 1973 against a boy aged six.
It was followed two later by the alleged rape of a girl under 16.
Another eight men and a woman claimed he carried out indecent sexual assaults against them while they were children between 1977 until 1995.
Two of the charges related to extreme pornography involving animals.
A female witness who gave evidence via a police video recording told the court Mr Waterfield had regularly invited children to his house from a children's home.
She said that he videoed the children in his front garden after getting them to remove their clothes.
The trial, which is expected to last up to four weeks, continues.