Norwich bike instructor sued over lawyer's Surrey Hills fall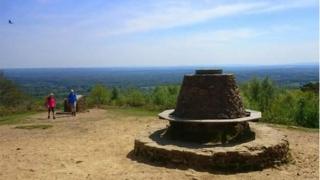 A mountain bike instructor has been sued for millions of pounds after a lawyer was left paralysed when he fell on his head during a beginners' training course.
Leon MacLean, from Norwich, led a session in the Surrey Hills in which Asif Ahmed went over his handlebars.
A High Court judge ruled MacLean was 80% to blame for the accident.
The instructor's lawyers said he was "not cavalier or gung-ho" and did not push his students beyond their limits.
The amount of compensation has yet to be assessed, but it is likely to be more than £3m, London's High Court heard.
For more on this story and other Norfolk news
The court was told Mr Ahmed paid £79 for the course in March 2012.
The 47 year old, who works as a senior lawyer, fell during the descent of a tough route known to cyclists as "Barry Knows Best" on Holmbury Hill.
He was injured when his front wheel suddenly jammed on "what looked like a clumpy, grassy piece of ground", the court heard.
'Serious risk'
Mr MacLean, of Edinburgh Road, Norwich, was described by his lawyers as having a "passion for mountain biking" and that he was not "a reckless individual".
But the judge ruled he was negligent in "encouraging" Mr Ahmed to ride "at speed" down the sharp slope without first assessing his biking skills.
Describing Mr Ahmed as a "novice rider", the judge said he "should have been warned" not to take the most difficult route down the hill.
Mr MacLean, a former primary school teacher, had exposed him to "a serious risk of harm", the judge said.
The court heard Mr MacLean is still a leading mountain biking instructor and there was "no reason to believe" he was not a competent one.