Toilet block rejected by town over 'lack of trust'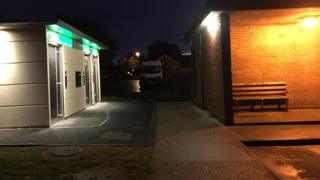 A self-cleaning toilet block is to be removed from a town after less than a year because some people "didn't trust" the doors not to open.
The £122,000 public lavatory was installed on Bullock Fair, Harleston, Norfolk, in 2015.
But the block proved unpopular and South Norfolk Council has now agreed to remove it at the cost of £30,000, as reported in the Eastern Daily Press.
There were also reports of vandalism and initial teething issues.
Councillor Kay Mason Billig said some people living in Harleston "didn't trust" the automatic doors.
"I think it's safe to say that the modern toilets have not been popular with the people of Harleston and so we have listened and have agreed to reuse the toilet block elsewhere and refurbish the old loos."