Stricken Happisburgh yacht 'embedded in groyne'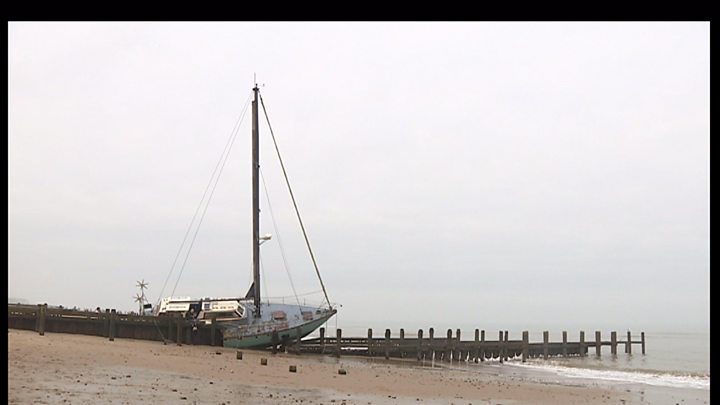 Coastguard crews are trying to work out how to remove a large yacht that ran aground on a Norfolk beach.
The 42ft (13m) vessel became wedged on a breakwater near Happisburgh on Saturday. The captain, from Hull, was treated for minor injuries.
Fire crews and the Coastguard are also attempting to remove a "significant amount" of fuel to prevent leaks and pollution.
They urged people to stay clear of the "precariously-positioned" yacht.
The 25-tonne craft was travelling from Hull to the Thames Estuary when the wind dropped and the engine failed to start, an RNLI spokesman said.
The vessel struck the breakwater groynes and became beached at Cart Gap in the early hours of Saturday morning.
For more on this and other stories, visit the BBC Norfolk Live page
Its captain, John Favell, said he got into difficulty at about 02:00 BST but was trying to make it back to open water.
He was hit by the boom on impact and thrown into the water.
Mr Favell said he managed to make it to the beach where he was found at about 07:20. He was helped by RNLI volunteers and later treated by ambulance staff.
"The yachtsman regrets not calling for help until it was too late," an RNLI spokesman said.
Mr Favell said he took "full responsibility" but "fatigue and conditions got the better of me".
His yacht was quite badly damaged but he said he was more concerned about making sure it did not pollute the sea, rather than whether it could be repaired.
Coastguard duty commander Andy Jenkins said: "The vessel is still embedded in the groyne.
"[We] are liaising with the local authorities and the owner to determine what we can actually do about removing it."