Better Healthcare walks away from Norfolk contract after one year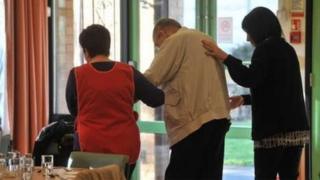 A council has ended its contract with a care firm that it found was letting down vulnerable people in Norfolk.
Better Healthcare Services (Norwich) has agreed to walk away from its Norfolk County Council contract next month.
A Care Quality Commission (CQC) report deemed the company as "inadequate" and placed it into special measures.
The firm has not commented but the council said the parting was by "mutual agreement".
For more on this story and other Norfolk news
The CQC told Better Healthcare, which took over the contract a year ago, it needed to improve in April.
At the time, the company said it was trying "to hit the highest standards possible".
On their latest visit, regulator inspectors found carers were often late to arrive and sometimes missed calls altogether.
One person said their relative sometimes missed getting medicine because a carer failed to turn up.
'Not consistently safe'
Another said their relative did not get their lunch and could not get to the commode because the carer had missed their appointment.
The CQC said the service was "not well-led", "not consistently safe" and complaints were not addressed.
The carers said they did not have enough time to get from job to job and that it was "embarrassing".
Staff were praised in the report and were described as "splendid" and "outstanding".
A Norfolk County Council spokesman said the contract would be taken on by two firms - Leaf Care Services and NR Care.
The council said "at no point will anyone be left without a homecare service".
Better Healthcare has not yet responded for comment.