Skate park house owner takes it off the market to safeguard its future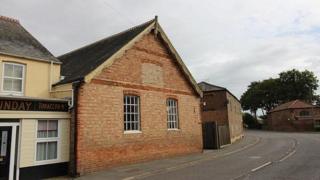 The owner of a house with an indoor skate park has taken it off the market to safeguard its future.
The 19th Century property in Terrington St Clement, near King's Lynn, Norfolk, had generated widespread interest when owner Rob Marsden put it up for sale.
But the 41-year-old became concerned that the "wrong" person would buy it and has now decided not to sell.
He said: "I'm a bit sentimental and I didn't want a developer to take it down. I'm in love with the place."
For more stories about quirky homes follow BBC England's Pinterest board
Mr Marsden had built the skatebowl over six months 13 years ago.
He said it had become a feature within the skating community and he holds weekly "skate nights".
He had initially said he wanted to sell the property because he wanted to move somewhere where he could accommodate both himself and his Range Rover restoration business.
But despite offers in excess of the £200,00 guide price, he said he "would rather stay put".
"There was just so much interest and I worried that the wrong person would buy it," he said.
"We don't have a skate park here in Terrington, even though it's one of the biggest villages in the county, and it means a lot for people to have somewhere to ride."
Estate agent Attik Property Services had arranged an open weekend to enable "serious" buyers to view the three-bedroom property.
Fifteen people - including some from Birmingham and the Isle of Wight - had been expected to attend.
Kate Mamo from the company said: "We're really disappointed and we had some really good buyers."