Thorpe Marshes Reserve deaths: Girl's father 'saw no signs'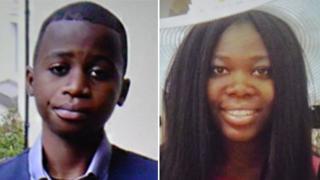 The father of a teenage girl who drowned while trying to save a friend told an inquest he never saw warning signs in the area.
Stella Kambi, 17, and Bonheur Musungay, 14, died at Thorpe Marshes nature reserve near Norwich on 12 August 2015.
Police told a resumed inquest into their deaths that three warning signs had been vandalised two weeks before.
Stella's father Daniel Aketo said he believed it to be a safe place to take his family.
For more on this story and other news from Norfolk
"As a family we've been to that area of the river lots of times," he said in a statement read to the Norwich jury inquest.
"We went to go for picnics and let the children have a swim.
"We didn't know it was a dangerous area to swim."
Mr Aketo added: "We saw lots of people including her school friends swimming, so we thought it was safe.
"At no point when we have been there did we see any [warning]."
'Danger warning'
PCSO Michael Oleson told the inquest that three new warning signs, reading "Danger - deep water. No swimming", were installed on 27 July but had been vandalised.
He said he had been called to the site in the preceding weeks.
He found seven youths swimming at the broad on 18 July 2015.
He got them out of the water and escorted them off the site, he told the hearing.
PCSO Oleson was called again on 9 August 2015 to reports of two adults swimming in the water.
"I warned them of the dangers of swimming," he said.
"They said they had been doing it for 20 years and they carried on."
The inquest is expected to conclude on Tuesday.