Girl aged nine dragged into wooded area in Norwich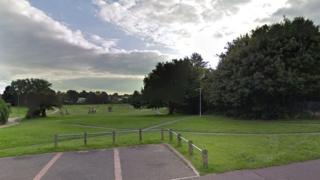 A man grabbed a nine-year-old girl as she played in a Norwich park and dragged her into a wooded area before she escaped, said police.
Norfolk Police said the man, aged between 25 and 35, attempted to take the girl at about 16:30 BST on Friday, while she was using play equipment in Pointers Field, off George Pope Road.
Police said the girl managed to break free and was not injured.
The suspect had a beard and was unkempt and scruffy in appearance.
He was between 5ft 10ins (1.77m) and 6ft (1.8m) tall. Anyone who saw anyone acting suspiciously or has any information about the incident is asked to call Norfolk Police.