HMP Wayland violence 'on rise before governor attack'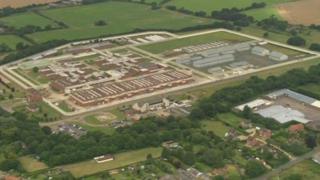 Violence at a prison had been increasing in the months before its governor was attacked by an inmate, a report has said.
Paul Cawkwell was badly beaten in the canteen at HMP Wayland, Norfolk, in July.
Inspectors from the Independent Monitoring Boards (IMB) said the prison had faced a "very challenging year".
It blamed unrest on overcrowding, staff shortages and inmates being imprisoned far from home, making visits difficult.
The IMB also said that, like many prisons, there was a problem with the availability of illegal substances at Wayland.
The author of the report said there had been a rise in the number of prisoner attacks on staff and fellow inmates but was unable to provide figures.
---
The report, which covers the period from June 2015 to May 2016, reveals:
146 inmates share cells designed for single occupancy
85% of offenders are not from Norfolk or Suffolk
Four deaths in custody in 2015
20% of the serious incidents are carried out by inmates serving a public protection sentence
90% of offenders have at least one psychiatric disorder
Medication, delivered from Norwich prison, can take up to four days to arrive
---
'Undeniably shocking'
Mark Day, of the Prison Reform Trust, said: "There needs to be sufficient numbers of staff to prisoners to handle any incidents that may occur.
"Prisons essentially hold too many people for the capacity they have and this adds to the problems of safety.
"Incidents like the attack on the governor can undermine the morale of the people living and working in the prison so it was an undeniably shocking incident."
The IMB praised the hard work of staff and said a recent increase in staffing levels had resulted in improvements.
A Prison Service spokesperson said: "Safety in prisons is fundamental to the proper functioning of our justice system and a vital part of our reform plans.
"There are a number of factors, including the availability of psychoactive substances that must be tackled, and we have rolled out mandatory nationwide testing of synthetic drugs, which will help to end the flow of these dangerous drugs into our prisons."