Norfolk cannabis crop: 'Tight squeeze' for greenhouse plants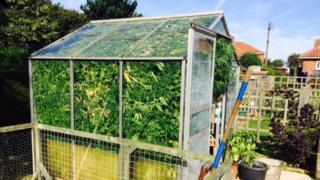 A man whose garden greenhouse was found stuffed with cannabis plants is given a caution by police in Norfolk.
The discovery was made in Gissing, as reported in the Diss Express,
A spokeswoman for Norfolk Police said: "Officers attended an address in Common Road and discovered three cannabis plants in a greenhouse.
"A man in his 50s was questioned before being released on bail. The man admitted cultivating the plants and has been given a formal police caution."
A tweet from South Norfolk Police described the find using the hashtags "#FunnyTomatoes" and "#TightSqueeze".