Henry Bett: Crash son of former PCC freed on appeal after death crash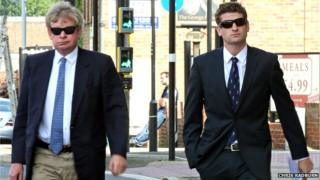 A former Norfolk police and crime commissioner's son jailed for killing a woman in a crash has been freed by the London Appeal Court.
Henry Bett, 27, of Thornham, near Hunstanton, son of Stephen Bett, was jailed for three and a half years in August 2015.
He was convicted of causing the death of Rebecca Brown, 43, by dangerous driving in a December 2013 collision.
The court quashed the conviction and ordered his immediate release on bail.
The three Appeal Court judges also said he must be re-tried.
Mr Bett, of Ling Farm Cottages, Thornham, pleaded not guilty in 2015 to death by dangerous driving, but was convicted by a Peterborough Crown Court jury.
The court ordered that no details of the arguments in Mr Bett's appeal could be published for legal reasons.