Tibbenham couple of 21 years marry on hospital ward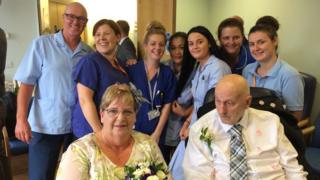 A hospital ward was transformed into a wedding venue after health issues prompted a couple to tie the knot.
Daniel Williams, 79, had proposed to his partner of 21 years, Doris Fountain, 57, on a number occasions but she had knocked him back.
But after he had supported her through breast cancer and then had a stroke himself, she then decided to take him up on his offer.
The couple, from Tibenham, near Diss, married at Norwich Community Hospital.
Live updates on this story and other news from Norfolk
Ms Fountain, who has three children, was given away by her son Luke Forrester, 41.
It was the first wedding to take place at the Beech Ward and was attended by friends, family and hospital staff.
Retired headteacher Mr Williams has been on the ward since 23 July after suffering a stroke. Ms Fountain joined him on the ward for the day.
A hospital spokesman said: "There were lots of tears from our staff, it was a very emotional day."