Car driven five miles on metal wheel rims and two tyres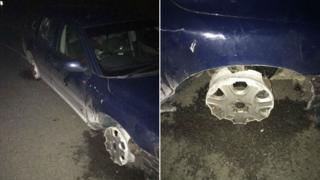 A car was driven for about five miles on the broken metal rims of its wheels before being abandoned.
The car, completely missing two tyres and with its windows smashed, was found on the A47 in Norfolk at about 12:00 BST after a motorist alerted police.
PC Steve Lee tweeted: "This was driven along the A47 in this shocking condition for approx five miles earlier tonight. Two detained nearby."
He added: "It's fortunate that nobody was seriously injured."
Another Twitter user described the photographs as "amazing", while one tweeted: "Surprised it even moves."
One person jokingly replied: "It will buff out."
Together with a colleague, PC Lee found the car abandoned in a lay-by near Dereham.
"It was in a terrible condition. I honestly couldn't believe it had been driven along a dual carriageway," he said.
An AA spokesman who saw the photographs praised the officers for taking the vehicle off the road.
"[It] is clearly unsafe to drive. Driving on the rims would make it incredibly difficult to steer, and as it was on the A47 it may have been driven at speed, which would have made the situation incredibly dangerous," he said.
"Driving a vehicle in this state would have produced lots of sparks, which could have caused a fire and called upon more emergency services."
Two men found near the abandoned car were arrested on suspicion of driving whilst unfit through drink or drugs, and dangerous driving.