Runaway rhea on loose in Norfolk after evading capture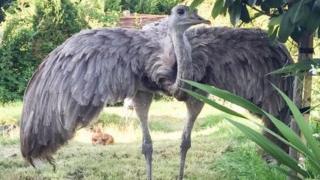 A pet rhea is on the run after it avoided capture when its owner had an asthma attack.
Lawrence the rhea went missing from Ashley Bullard's garden at Norton Subcourse, close to Reedham, on Tuesday.
It was spotted on the nearby marshes but after chasing and catching the bird, Mr Bullard had an asthma attack.
Mr Bullard, 34, and his friend Max Robinson, 25, from Oulton Broad, have since been searching for Lawrence.
"He is a wonderful and loving animal, he wouldn't bring any harm to anyone," said Mr Robinson.
"He's never gone missing before, not in five years. Ashley is absolutely gutted."
Rheas are grey, flightless birds with long necks and long legs. They can be up to 170cm (67in) tall and can run at speeds up to 40mph (64kph).
The RSPCA said they are the animal is not listed as dangerous but people not to approach them.
Mr Bullard's bird was incubated as an egg at home and is kept in the garden. It is thought it escaped through a fence.