RAF Marham abduction attempt: Nationwide sightings 'unconfirmed'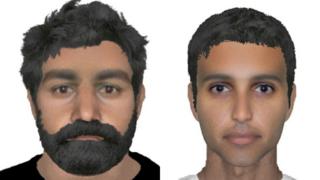 Police investigating the attempted kidnap of an RAF serviceman have said reports of nationwide sightings of the suspects remain unconfirmed.
A knife was brandished during the attack near RAF Marham, Norfolk, on 20 July as men tried to drag the victim into a car before they were fought off.
Police said despite reports of the pair being spotted, none had been confirmed.
The detective investigating the case has also said the men "underestimated the victim's ability to fight back".
The victim headbutted one of the two attackers, who were possibly part of a "larger team".
Investigators are said to be continuing a "painstaking" trawl through CCTV footage from the area.
More than 150 calls have now been received and e-fits of the two attackers were released on Wednesday.
'Open mind'
Det Supt Paul Durham, of Norfolk Police, said there was "some promising information" among the calls.
"Regarding the search for our suspects, we are not focusing on any specific area and I'm keeping an open mind as to where they are from," he said.
"It's evident the would-be attackers have under-estimated the victim's ability to fight back.
"There is no credible evidence this is a terrorist incident, but that remains one of a number of possibilities."
Earlier this week, the force said the inquiry was being supported by officers from the Metropolitan Police counter-terrorism unit.
One suspect is described as of "Middle Eastern appearance", between 20 and 30 years old, approximately 6ft (1.8m) tall, with a well-groomed beard.
The second man, who is of similar appearance, is slightly younger, about 5ft 10in (1.78m) tall and was clean-shaven with short, dark hair.
The victim was approached by two men while jogging near the base.
He wrestled one man to the ground - possibly leaving him with a black eye - before another man, armed with a knife, tried to attack him.