RAF Marham abduction suspect 'might have black eye'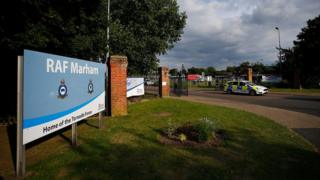 One of two men suspected of trying to abduct a serviceman near an RAF base might have been left with a black eye in the attack, police said.
The victim was threatened with a knife near RAF Marham on 20 July and attempts were made to pull him into a car.
Norfolk Police said one of the suspects was headbutted by the victim during the scuffle, possibly leaving him bruised.
Detectives previously said they believed the attackers were likely to have been "part of a larger team".
Det Supt Paul Durham said the extent of the suspect's injuries were unknown.
For more stories like this, visit the BBC Norfolk Live page
He said: "The victim managed to fight off his attacker and headbutted him, we believe around the eye-socket, so it is possible he suffered swelling and bruising in this area.
"He was then punched which caused him to fall to the ground."
Det Supt Durham urged people who knew anyone who matched the suspect's description, and who had a similar injury, to contact officers.
The first suspect is described as Middle Eastern in appearance, between 20 and 30 years old, approximately 6ft (1.8m) tall, with a well-groomed beard.
The second man, who was also Middle Eastern, is slightly younger, about 5ft 10in (1.78m) and was clean-shaven with short, dark hair.
Police are also still looking for a dark-coloured people carrier used in the attack.
Det Supt Durham added: "Tracing the vehicle remains a priority and one point I would like to re-emphasise is that we do believe it may have contained more than the two suspects seen by the victim.
"This is important because I do not want to deter any potential witnesses from coming forward; it is the vehicle we are interested in, regardless of the number of people seen inside."