Allison and Stephen Muncaster deaths caused by shotgun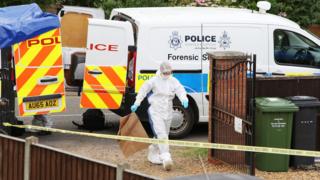 Shotgun wounds caused the death of a married couple found dead at their home, a post-mortem examination has confirmed.
The body of Stephen Muncaster, 47, was found shortly after midnight on Tuesday in the front garden of a property in Magdalen, near King's Lynn.
His wife Allison, 48, was found inside the house. Shots had been heard and a gun was found at the scene.
Police are not looking for anyone else in connection with the incident.
Get the latest on this and other stories for Norfolk
Police said they will produce a file for the coroner in due course.
Mr Muncaster was the uncle of Michael Carroll, who made headlines in 2002 by winning £9.7m in the National Lottery.