Harleston boy's treehouse saved from axe by council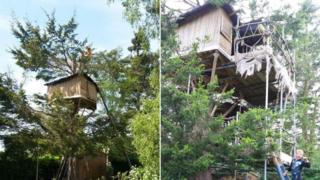 A man's efforts to save his son's treehouse have paid off after councillors ignored a recommendation to take it down.
Chris Mack built the den at his parents' home in Harleston, Norfolk, three years ago.
South Norfolk Council discovered it in December and said it infringed the privacy of neighbouring properties.
The authority's planning committee said the concerns were not "sufficient" enough to warrant removing it.
Mr Mack said the news was "unbelievably fantastic".
The scaffolder had presented the council with a letter signed by his neighbours in support of the treehouse.
He said parents living nearby "loved" the treehouse, which measures 15ft (5m) off the ground, 10ft (3m) wide, 5ft (1.5m) high, and allowed their children to play in it with his son, James.
Officers told Mr Mack last year to apply for retrospective planning permission but recommended its refusal because of the impact on the neighbours' privacy.
They were also concerned the "overall scale and design is not appropriate for this location and is out of character with the locality".
A council spokesman said the 10 committee members decided "the degree of harm caused to the visual amenity of the area and the privacy of the neighbours was not sufficient to warrant refusal".
Mr Mack said his son would be "over-the-moon" with the decision.