Siberian bird spotted on Norfolk coast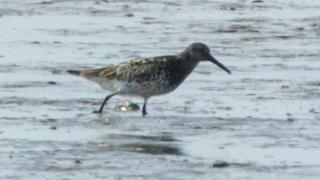 A bird that lives most of the year in Siberia and winters in south east Asia or Australia has been spotted in north Norfolk.
The Great Knot, a small wader, has attracted dozens of bird watchers from far and wide to Titchwell's RSPB reserve on the coast.
Only five have ever been spotted in England and this is the second to come to Norfolk.
Titchwell volunteer Geoffrey Fitt said it was a very rare and unusual visitor.
"It breeds in north-east Siberia and normally this time of year heads for the coasts of south east Asia or Australia."
The last Great Knot appeared on Breydon Water in July 2014.