Baylee Varley death: Boy who died 'could have been hurt as baby'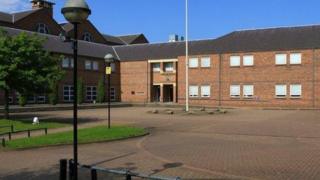 A boy died six years after his father inflicted a head injury on him as a four-week-old baby, a court has heard.
Kevin Toye, 29, of St Nicholas Road, Great Yarmouth, is on trial at Norwich Crown Court for the manslaughter of Baylee Varley, who died in March 2014.
A doctor who treated Baylee in February 2008 told the court he could have been "injured by somebody".
That morning his father had found the baby, who had been ill through the night, "floppy, pale and gasping".
Baylee died of complications from his long-term head injury, the court was told.
Baby 'vomiting'
Consultant paediatrician Dr John Chapman treated Baylee when he was admitted to James Paget Hospital, Gorleston, on 23 February 2008.
Dr Chapman had been told by the parents that Baylee had been vomiting and was hot and sweaty through the night.
The consultant said Baylee was treated immediately for possible infections, but a CT scan showed bleeding and swelling in his brain and it was "possible Baylee had been shaken".
An examination of his eyes also showed blood inside and X-rays later revealed broken ribs.
"We looked very hard for signs of infection... and were left with a situation of a baby with a damaged brain," Dr Chapman said.
Hospital stays
"I thought it could have been a shaken baby injury inflicted by his carers, but I couldn't be categorical."
Baylee was transferred to Addenbrooke's Hospital, Cambridge, before he returned to James Paget Hospital in March 2008.
He stayed there until May, when he was placed in Mr Toye's parents' care.
During this time, Dr Chapman saw Mr Toye regularly and agreed with the defence that he showed care and concern for his son.
The trial continues.